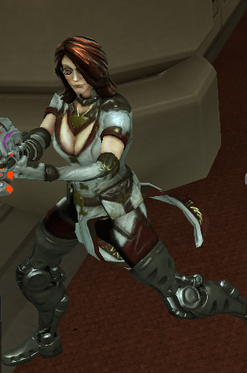 Thinktank is a female Super Agent NPC occasionally fought as the boss of High and Maximum Security
PvE
missions.
Overview
Edit
Think-Tank is armed with a low damage Agonizer with almost perfect accuricy.
While Thinktank doesn't fight much herself, she will summon in reinforcements while shielding herself from damage (the shield itself resembles the lower-half of an Assault's Perfect Target ability, in an orange hue). Once her shield is broken, she'll run around while firing a low-damage pistol. A short time later, she will stop moving, restore her shield, and summon in more reinforcements.
Due to reinforcements being summoned every time her shield goes up, it is recommended for Robotics to avoid having their turrets target Thinktank directly, and instead be set up for killing the high-health reinforcements as quickly as possible.
If a turret targets Thinktank directly, it is likely to break her shield before the team is able to defeat the summoned reinforcements, thus losing time to damage her and opening the possibility of getting a wave of reinforcements while still fighting off the previous wave. If an Turret is shooting her, try to replace it or stand in front of its firing beam untill he finds another target.
An well known strategy is that the Recon(s) place a Deconstructor on top of the spawn point. Alarm Responders always spawn and with the device on top or close to the Spawn Point will destroy them in seconds without noticing. Decoys can help as well but it actually depends where he is heading for. Sensor Boost is perfect to spot the spawned Elite Assassins and deal increased damage and increased movement speed. Shatter Bomb Boost is extremely effective, destroying all small bots and deal huge amount of damage to Support Units and Elite Agents. Just to note that the Shatter Bomb Boost should be place correctly since it can destroy the Recon's own Deconstructor.
As well for the Robotics they face their Turret(s) aiming for one Spawn Point. Great for damaging the Support Units and the Elite Agents. Make sure it doesn'tface Thinktank. Most Robotics use Dome Shield but Personal Vandals can be an great decoy aswell agianst Elite Assassins, Support Units and swarms of Alarm Responders. Just to note that you have to man it sometimes to trigger some aggro.
For the Assault Tanks is the best strategy to block the ram attack preformed by the Support Keepers. Most of the time every ram they perform forces them to make some steps back before performing another one.
The Medic does not really have different strategy than healing but there are some devices that can be handy. An example is a Posion Grenade. You should throw these at Alarm Responders or Elite Agents. Debuff will decrease their protection and healing recieved including some damage over time. When one of these described units are affected with posion and are around -30% max health, they are stunned untill the debuff fades (Debuff works on Support units but dont trigger the Stun effect).
Summoned Adds
Edit
Usuall when you face Thinktank there are 2 Respawn Beacons. Make sure to have a look what spawns when she shield herself. If all players are killed, all the summoned adds despawn.
Not only these bots will be spawned, aswell Elite Agents will come to aid her.
Known Loot
Edit
The adds that are already in the room before encoutering Thinktank can drop some Craft Materials and the Elite Agents ( Helots and Techros only, Alchemists not included, Assassins aren't there untill spawned ) can drop weapons like:
Helot Mingun
Techro Blaster
When Thinktank's reinforcements are killed, no loot will be given. This was to prevent farming a huge amount of Craft Materials or special Elite weapons. Thinktank herself can drop a single Craft Material that can be used for Rare mods or Epic mods.
Ad blocker interference detected!
Wikia is a free-to-use site that makes money from advertising. We have a modified experience for viewers using ad blockers

Wikia is not accessible if you've made further modifications. Remove the custom ad blocker rule(s) and the page will load as expected.