Maintenance Drone
Talk

0
457pages on
this wiki
An uncommon NPC found in PvE missions. They resemble a floating orb with a claw-like apendage.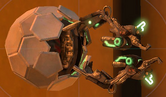 Overview
Edit
These utility drones will hover around healing any nearby damaged NPCs, including other Maintenance Drones.
It is recommended that players focus on removing these annoyances first before they have a chance to undo any damage done to hardier targets - a drone healing an Elite Helot can be exceptionally frustrating.
Note that Maintenance Drones are Mechanical, and are vulnerable to EMP Bombs and related debuffs.
Known Loot
Edit
<to be added>
The Maintenance Drones often make short quips while flying around the area.
"Please do not shoot me."
"Have you considered surrendering?"

"You're in a restricted area."

"The Commonwealth is your friend."
"Identification, please."
"I hope you're having a pleasant day."
Note: following his instructions is not advised.