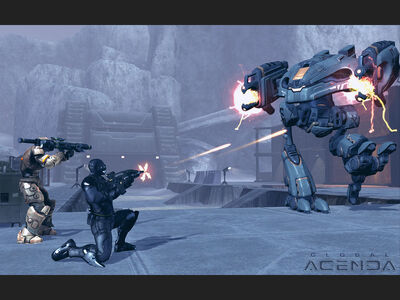 Information
Edit
Snowy Wasteland is a confirmed Player vs Environment instance[1]. Bots have also been confirmed to be able to compete in this level alongside you [1].
A tundra/snow environment is expected due to the name alone, but as with all of Global Agendas style, with a mechanical polished metal finish.
Objectives
Edit
Destroying a slow-moving armoured vehicle[1].
Strategy
Edit
A single medic helping a strike team was capable of completing the mission[1].
Footnotes
Edit
Ad blocker interference detected!
Wikia is a free-to-use site that makes money from advertising. We have a modified experience for viewers using ad blockers

Wikia is not accessible if you've made further modifications. Remove the custom ad blocker rule(s) and the page will load as expected.