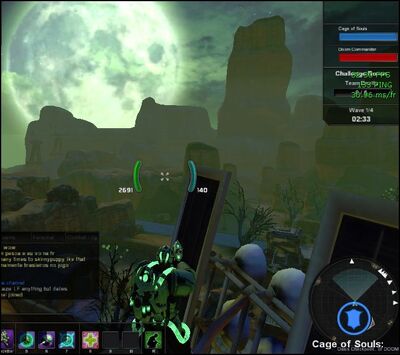 The
Halloween event
was a special in-game holiday event, which began on October 27, 2010 and ended on October 31, 2010. It is unclear if this will be an annual event.
The event began on October 27, 2010 with the release of Patch 1.38, which introduced most of the features.
A Halloween-themed Defense Raid map, Oasis Checkpoint...of Doom, was available during the four day event, where players humerously defended a cage of souls from attacking Recursive Colony forces which were also themed for the event.
During these missions, players had an opportunity to find 13 Halloween masks, which varied in quality from rare to epic. These masks could drop from any bot during the mission, but would always drop if the team successfully defeated the boss.
The event ended on October 31, when the Halloween map was pulled from the rotation; possibly until next year.
Flair Items Awarded From the Halloween Raid "Oasis Checkpoint... Of Doom!":
The items unlocked during this event are considered seasonal; they may only be worn from October 1 through November 30.
Angel's Halo
Cleaver
Devil Horns
Half Skull
Pointed Hat
Ram Skull
Grim Hood
Hockey Mask
Pirate Hat
Skull Full
Grim Reaper
Brain Jar
Pumpkin
Ad blocker interference detected!
Wikia is a free-to-use site that makes money from advertising. We have a modified experience for viewers using ad blockers

Wikia is not accessible if you've made further modifications. Remove the custom ad blocker rule(s) and the page will load as expected.