Home
Talk

17
457pages on
this wiki
Featured Article
Crafting
Crafting in Global Agenda allows players to create items from materials gathered during PVE (Player vs. Environment) missions or while exploring the Sonoran Desert Zone. These items range from pets to cargo ships.
Available crafting Categories are:
Armor Modifications - Creates modifications to add stats to armor.
Weapon Modifications - Creates modifications to add stats to weapons or off-hand devices.
Strikeforce Crafting - Creates AVA items.
Consumables Crafting- Creates consumable items for use in PVE gameplay.
Special Crafting - Creates flair items such as pets.
Featured Article
Impending Deletion!
This page has been nominated for deletion! See the Discussion page for details!
This is a list of all the known agencies within
Global Agenda
. Please feel free to update this list once you have created your agency page - please use the
Agency Template
to do this. So far these agencies have been created by using information from the
Agency Listing
thread in the official GA Forums.
-Dirty Duzon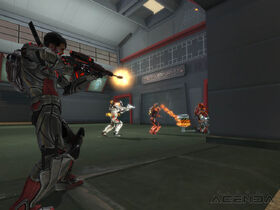 Metal Arms is a Tier 3 map. It is unknown at this time whether it is a PvP or PvE locale.
Official Sites
Global-Agenda.info
Fansites
News Items