"Protect The Colony!"
-Colony Drone
Colony drones are humanoid robots, recusive basic footsoldiers armed with an assault blaster.
They are easy to kill and deal a small ammount of damage, they use to travel in large groups, and while one is not a real challenge, a large swarm can be really deadly.
They are the basic assault soldiers and the most common enemy fought in Recursive related quests and instances.
Known Loot
Edit
Scrap Metal
Intact Mechanical Torso
Intact Mechanical Head
Intact Mechanical Leg (Extremely low chance to drop)
Intact Mechanical Arm (Extremely low chance to drop)
Mechanical Eyes (Extremely low chance to drop)
Flair - Recursive Android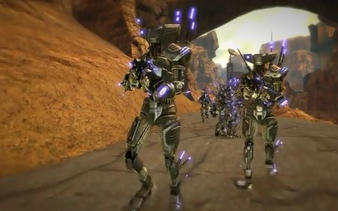 Alternate Forms
Edit
Ad blocker interference detected!
Wikia is a free-to-use site that makes money from advertising. We have a modified experience for viewers using ad blockers

Wikia is not accessible if you've made further modifications. Remove the custom ad blocker rule(s) and the page will load as expected.