The
12 Drops of Christmas
was a holiday-themed event for
Global Agenda
, which began on December 16, 2010 and will run through January 9, 2011. It is unclear if it will be a yearly event.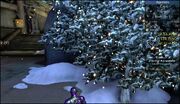 The event began on December 16 and continued for a little over three weeks, ending on January 9, 2011. During the event, players had an opportunity to win special holiday flair items by completing special challenges. Every two days, a new challenge was revealed with the opportunity to obtain another item.
A special flair item was awarded to those who complete all 12 challenges.
Items and Challenge List
Edit
The following is a list of all items which were available and the challenge required. For up-to-date information on these items, click here.
December 16-17, 2010: Cold Turkey - Win 5 Breach-style PvP missions.
December 18-19, 2010: Garland - Win 5 Control-style PvP missions.
December 20-21, 2010: Christmas Lights - Record 500 bot kills
December 22-23, 2010: Reindeer - Win 5 Payload-style PvP missions.
December 24-26, 2010: Santa Hat - Win 5 Co-op PvE missions
December 27-28, 2010: Cooked Goose - Win 5 Scramble-style PvP missions
December 29-30, 2010: Candy Cane - Craft a consumable to Level 5
December 31, 2010 to January 1, 2011: New Year's Top Hat - Win 5 Mercenary PvP missions.
January 2-3, 2011: Nutcracker - Play an AvA mission.
January 4-5, 2011: Crusty the Snowman - Do 1 million points worth of damage or healing.
January 6-7, 2011: Robotic Chicken - Win 5 Demolition-style PvP missions.
January 8-9, 2011: Gingerbread Head - Win a mission with each class.
BONUS: Abominable Snowman - Complete all 12 challenges by January 9, 2011


Ad blocker interference detected!
Wikia is a free-to-use site that makes money from advertising. We have a modified experience for viewers using ad blockers

Wikia is not accessible if you've made further modifications. Remove the custom ad blocker rule(s) and the page will load as expected.